We've been doing our homework on the best VST Synths of 2021 and are sharing our top ten.  To learn how the pro's use them sign up to be a BassGorilla Member and get access to all our videos and tutorials, plus a great community of like-minded producers.
1. Serum by XFER RECORDS
THE ONE AND ONLY
Thanks to Steve Duda's careful coding, Serum resamples its wavetables with ultra-high precision, so that there aren't the same audio artifacts you'll find in other soft synths. Serum's artifact-free resampling keeps its oscillators crystal clear on any sound system, which is perfect for those glassy leads or angelic pads. But clean oscillators mean they can also dirty up your decibels down to the decimal without muddying up your mix.
Serum's wavetables aren't static. They're a sandbox you can make your own. Stack up to 256 wavetables on a single oscillator, import wavetables that look like cartoon characters, or draw your own custom manipulations and see how they sound.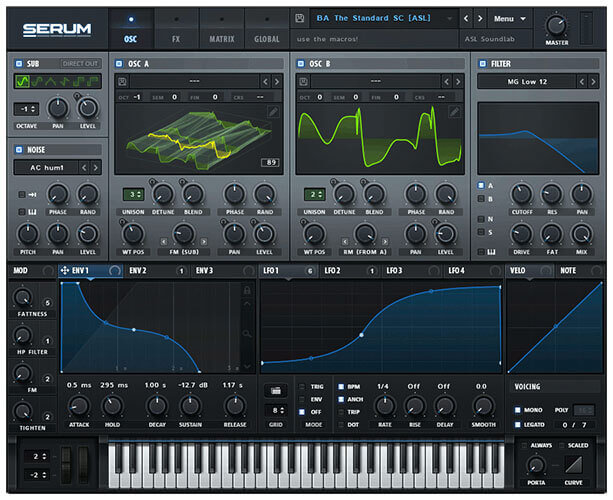 2. Omnisphere 2 by Spectrasonics
The king of VST synthesizers
Omnisphere 2 had to be number two because it's the king of soft synths, as has been for some time. At the time of writing, Omnisphere is on version 2.6, which comes with some extensive updates. It now comes with over 14,000 sounds that cover just about every genre of music you can imagine.
The real beauty is in how deep into the sound design you can go, with up to 20 oscillators per patch. Oscillators can be DSP or sample-based, and there are over 500 DSP waveforms for the synth oscillator. There are also eight LFO's per patch and 12 envelopes with ADSR or multi-breakpoint interfaces. Sounds can be layered, too, up to four layers per patch.
Omnisphere is the only soft synth with hardware synth integration. What that means is that if you own any of the supported 65+ classic hardware synths, you can use it as a controller for Omnisphere, so you have a hands-on workflow. Other updates include the unique arpeggiator with chord voicing, new step modifiers, and dividers; it's huge.
Omnisphere is a very powerful granular synth as well, which is fantastic for adding texture variation to your patches. You can import audio files as a sound source for many Omnisphere tools, but it's especially interesting with the granular synthesis. On top of everything else, there are 58 FX units, up to 34 filter algorithms in series or parallel, and much more.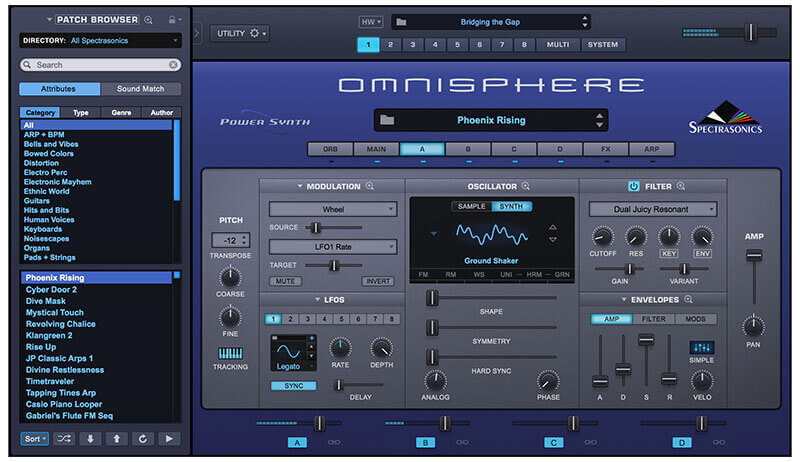 3. PIGMENTS 2 by ARTURIA
The best newcomer
Arturia is renowned for incredible attention to detail, so when they say Pigments was 20 years in the making, you can expect it to be one of the best synth plugins money can buy.
The first thing that we loved about Pigments is the colorful, easy-to-use interface. Too many soft synths have such convoluted UI's that put you off even starting, that's not the case here. Pigments utilizes a twin audio engine, which lets you combine virtual analog and wavetable oscillators with a sample engine. That's the starting point for your patch; from there, you have three envelopes, thee LFO's, and three function generators to at your disposal.
Pigments 2 has three main screens, the synth page, the effects page, and the sequencer page. Everything is clean and well-positioned for a super-fast workflow. The second version of Pigments has some significant upgrades, most notably, the new sample engine. With the new sample engine, there are hundreds of useable samples, plus you can upload your own. There are six upload slots with six different playback modes and numerous modulation options.
The new synth mode then lets you take those samples and transform them into unique granular synth patches. Also updated for Pigments 2 is the sequencer, which now allows you to add randomness to your sequence without losing its original form. So, in live performance, this tool lets you add some excitement to a phase then return to the original version. The built-in effects have also been overhauled, and now include the iconic Buchla Easel low pass gate amongst other awesome updates.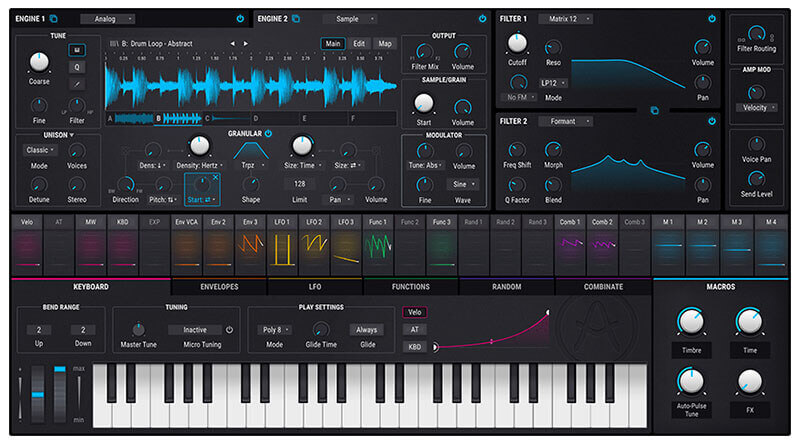 4. Zebra 2 by U-he
A Synth of all Stripes
Zebra2 is a sound-design playground. The powerful, high quality (but still CPU friendly) sound engine and the numerous sound sculpting tools make Zebra2 capable of a near-limitless range of new sounds and textures. A favourite amongst soundtrack composers, producers and sound designers, Zebra2 provides all the tools you need—the rest is up to you. Zebra2 is a wireless modular synthesizer designed for flexibility, ergonomy and low CPU hit. Its Modules only appear while they are in use: Add an oscillator to the patching grid and it will appear on the left, use an LFO for anything and it will appear on the right.
After a little practice you will find programming Zebra2 very comfortable and lightning fast. Which in the end translates to… more fun!
Zebra's modules are divided into Generators and Modulators, and include freely assignable controls that directly modulate important parameters.
5. Lion by Unfiltered Audio
King of the Synthesis Jungle
After developing some of the most innovative and forward thinking audio processing tools in the world of plugins, Unfiltered Audio is reaching for new heights with their groundbreaking first synthesizer. LION is an extraordinarily deep synth that features an easy-to-use interface with everything you need for quick patching, endless experimentation, and intuitive sound design.
Under LION's hood is a dual-oscillator architecture with each oscillator featuring 26 modes. These modes range from familiar classics to unique oscillators found nowhere else. Pick and choose from FM synthesis, subtractive or additive waveforms, "super" oscillator stacks, microsound, noise, or variations on each!
6. Massive by Native Instruments
From 2007 and STILL one of the best
MASSIVE is a sonic monster – the ultimate synth for basses and leads. The analog concept belies the contemporary, cutting-edge sound it generates. The high-end engine delivers pure quality, lending an undeniable virtue and character to even the most saturated of sounds. The interface is clearly laid out and easy to use, ensuring you will have MASSIVE generating earth-shuddering sounds from the very first note.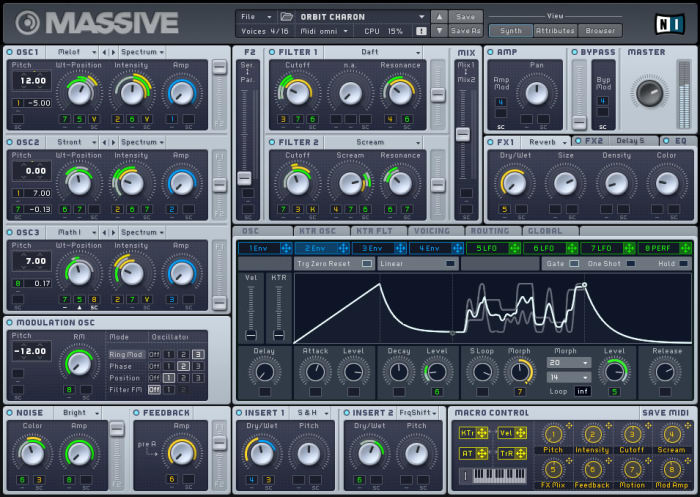 7. Massive x by Native Instruments
The Rebirth of a Legend.
Rethought, rewired, and reincarnated – MASSIVE X is the successor to an iconic synthesizer that helped spawn entire genres. Get everything you need to create any sound imaginable. Quickly patch complex routings to bring your ideas to life – no matter how far-out they might seem – and take things further than you thought you could with expressive, playable modulation. Think it up, dial it in, and define what the future sounds like.
MASSIVE X will grow, adapt, and evolve with regular free updates – both inspired by, and to inspire, the cultures it helps to create
8. Dexed by Digital Suburban
The FM sounds of the 80s
Dexed is a popular free synth VST that in no way looks like a free synth plugin. This Yamaha DX7 emulator comes with a UI that would look at home on most paid synths.
Digital Suburban are the developers behind Dexed, and it's come a long way since it's debut appearance. The stylish UI that we mentioned wasn't always present; it started off as a very cheap and dull-looking interface that we are glad to see change for the better.
There are quite a few FM synth VSTs out there, like Native Instruments FM8, or Arturia's DX7 V. It's not outrageous to say that Dexed might be the most feature-packed, easiest to use, and the most stable of the lot. It comes with a large number of presets, which make it easy to get started straight away. There are 32 sound banks that each contain 32 presets, from electric pianos, to synth brass, and more.
Dexed was originally intended to be a software partner for the hardware DX7 synth. It still works as a program editor for the hardware Yamaha synth, which is handy if you have one. FM synth plugins are sometimes a bit tedious, but Dexed lets you get to the sounds you want easily.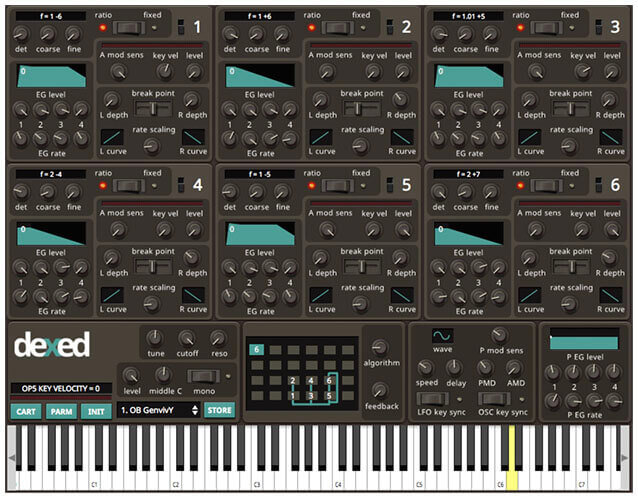 9. FM8 by Native Instruments
Another NI staple.
The successor to the award winning FM7, Native Instrument's FM8 continues where its massive predecessor had stopped. FM8 has an all new user interface and color scheme which looks nothing like the DX7-inspired interface the FM7 has. It's a powerful FM software synthesizer (VSTi, DXi, RTAS) which can be used for a wide range of genres. It has the potential to provide bread 'n butter sounds like a typical ROMpler would and is thus a synthesizer with the power to become one of the few software synthesizers you'll ever need. Forget about the complexity of algorithms found in Yamaha's DX-series and FS1r, FM8 has an FM matrix in which the user can define any FM path imaginable. Forget about the small two-line displays of the old days, FM8 has a clean user interface where every feature is one or two mouse clicks away and about every aspect of FM8 can be assigned to a controller via the MIDI learn button.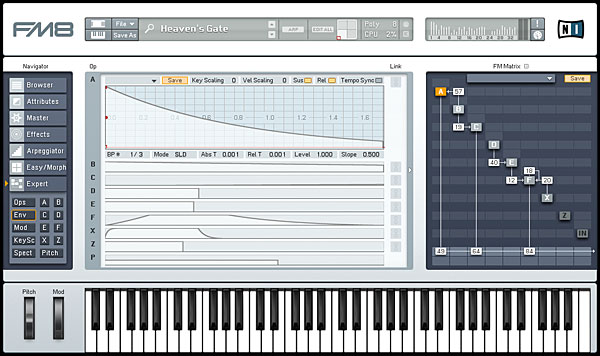 10. Nexus2 by REFX
A Legend Reborn
Nexus 3 is a complete overhaul of the Nexus 2 engine and features several new additions that the modern producer needs to produce a hit. Some of the new features are the scalable vector-based UI, a brand-new sequencer that is vastly superior to the one in Nexus 2, and NO MORE eLICENSER! That's right, activating Nexus 3 is a breeze with the new reFX Cloud. There, you'll be able to easily update Nexus and install newly purchased expansion packs with no hassle at all. Overall, you'll find that installing and using Nexus 3 is an enjoyable experience.
We hope you enjoy our top ten list of VST synths for 2021.  To learn how the pro's use them sign up to be a BassGorilla Member and get access to all our videos and tutorials, plus a great community of like-minded producers.